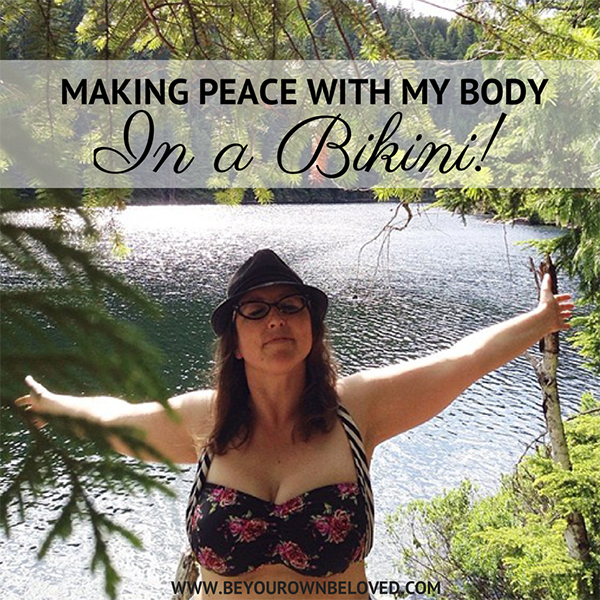 Earlier this summer I was visiting friends in Squamish (a town about 45 minutes north of Vancouver, where I live) and one of our first adventures was heading to one of the gorgeous lakes for a swim. Lake swimming is pretty much my favourite thing ever.  Its usually frickin' cold, so there is definitely some bravery involved, and if it is a SUPER hot day…it's the most refreshing thing ever.
I had bought a couple new bathing suits for the summer, one of them being my first ever bikini. Thanks to the high waisted bikini trend, it was the first time I ever even wanted to wear one.  I got mine at Forever 21 (online) for a super affordable price, so I went for it. This was the first time I had ever actually worn it in public.
To tell you the truth, it felt great to wear a two piece & I really didn't feel uncomfortable wearing it or swimming in it. I didn't feel ashamed or like I needed to cover up. I just felt like finally, I was wearing a two piece bathing suit that was meant for my body. That I was worthy of rockin' it.
Success….I had worn a bikini & felt great in it. 
But, like I often do…I wanted to capture that feeling of pride, of feeling good in it and to live what I preach in Be Your Own Beloved and see myself with kindness in this moment through my camera.
So, post-swim while my friend was getting some sunny reading time in, I decided to take a few selfies.  I feel super comfortable around her just being me, so I found a spot to prop my camera in a tree (literally) and went for it. I wanted to capture the sunshine, how awesome it felt to swim and yes, to capture myself proudly wearing a bikini (or fatkini as we lovingly call them in the body-positive, fat acceptance world).
I used my favourite timer app Gorillacam and took a few dozen photos having fun, reaching my arms up, just being happy to be at the lake & wanting to capture that.  When I looked at the photos.
Hmmmm.
Okay.
My reaction wasn't what I had hoped for.  I was overwhelmed with old stories of body shame in that moment, seeing myself at different angles in that bikini.  
Now, it might be easy to assume that because I take SO many selfies, that I never have ones I don't like. Not the case at all.  I'm knee deep in the process alongside you and just like with everyone, it often takes a lot of photos to get that one I really love too. The outtakes are part of the process, each of them potentially telling me a story about how I could see myself and the powerful thing about this process is knowing that I get to choose the one that gets to be a part of my path to self-love.
But this selfie-taking adventure felt a bit different because, well…I'm wearing a bikini for the first time.
It felt new, like I didn't know how to myself with compassion in quite the same way in something showing so much skin.  As I've mentioned before, I'm working on making peace with my belly and this was a big step in that self-compassion mission.
Here's the truth…seeing yourself with kindness through our camera isn't only about taking AWESOME photos that we feel fabulous in.  It is the process of noticing where our critic comes up and having a dialogue with it (or sometimes just telling it to get the heck out of our way) and choosing how we want to see ourselves.  
This was one of those times when getting the photo that felt like it was the one that captured the day…well, it didn't come easy.
I took a couple dozen photos and there wasn't one that jumped out saying YES…this is the one.
I could feel my disappointment rise up, that I wasn't capturing the energy of the day. So I looked closer at the ones I had taken, put aside any body critic for just a moment and looked at the look on my face in them. Then realized there was indeed one that felt like it captured the bliss I felt and that this was the story I wanted to remember of the day. I may not have gotten the photo I loved, but I got one I liked.
Still, I was left with all these stories of how I saw myself in that bikini rising up. 
It is easy to take the 'truth' we think we are seeing in the photo and let that define how we feel outside of the photo too.
I didn't want to do that. Cause I really felt great wearing it and because I have worked so hard to shed body shame.
So I put the phone away for a bit. I felt good about the one I chose, but part of me wanted to hide the other photos away and never look at them again, packaging them up as a defining truth that could be written into my skin. I couldn't quite shed the shame that spoke words like "How did you really think you looked in that bikini"?
But I knew this really was new territory for me. As a plus size girl, rockin' a bikini for the first time, I was proud that I was just going for it and that was worthy unto itself, whether or not I had a photo to prove it.
I have learned to love myself in photos when clothed, but even half-bare felt like a whole new part of that path.
Later on in the day I returned to the photos and noticed something different happening.
Past the initial reaction of my inner critic and somewhere in between finding my way to a place where I felt good about those photos I found myself in the land of inquisitiveness.
I mean, I had never actually seen my body in a photo like this, with my torso bare.
I found these questions, or noticing come up.
Thoughts like:
Hmmm…my torso actually looks waaaay longer in these photos than I would have thought.  I think I see my torso as being pretty short, but thats not at all what I'm seeing in these photos.
And, oh my…my chest looks gigantic in these photos. Bigger than I perceive it to be and bigger than I think it actually is! Interesting…I think it might be the bathing suit top itself adding some girth there. Not a bad thing, just a noticing.
And so often I hear people critic themselves and their back fat, but when I see those photos of myself from behind, I kind of like the way that my body curves & folds.  I didn't expect that.
This felt like making peace with my body. To meet it with this inquisitiveness. To engage in the process of noticing what I loved and what I still struggled with. To meet the tough moments of shame with compassion too. Making peace with our bodies isn't just the moments of awesome confidence. It is the ones where we are struggling too & meeting those moments with resilience. 
I wanted to share this with you and invite you to perhaps open up an old folder of photos today, ones that you might have packed away & tied up with a bow encasing a story of how you look in the photos in there….never to be looked at again.
What if we met ourselves with inquisitiveness between that place of love vs hate?
Or maybe you took Be Your Own Beloved and might want to look back at some of your course outtakes?
If you do, what might happen if we separated that initial response we had from our experience with the photos, one in which we may have even recoiled or ran from them afraid of what we saw. That happened and that is okay. But it doesn't mean that your initial reaction is true.
What would happen if we returned to those photos with inquisitiveness? Not even putting pressure on ourselves to see with kindness…just simply being open to notice what comes up.
We don't have to love them. We don't have to share them. But what if they were a map to get to know ourselves even better? What if you saw them from outside of yourself?  What if you looked at them as though you were supporting a friend with seeing herself with kindness?
Would you like some support in your journey to make peace with your body?  If so, come join me for  Be Your own Beloved which starts on September 1st.  I promise that bikini-selfies aren't a part of the class (unless you want it to be) and the class is a powerful mix of activities that will be both inside & outside of your comfort zone!  I should warn you…this class can absolutely transform the way you see yourself in photos and open the door to self-love in big beautiful ways!  We are going to start gathering in the Flickr Group on Friday so now is a great time to join us!