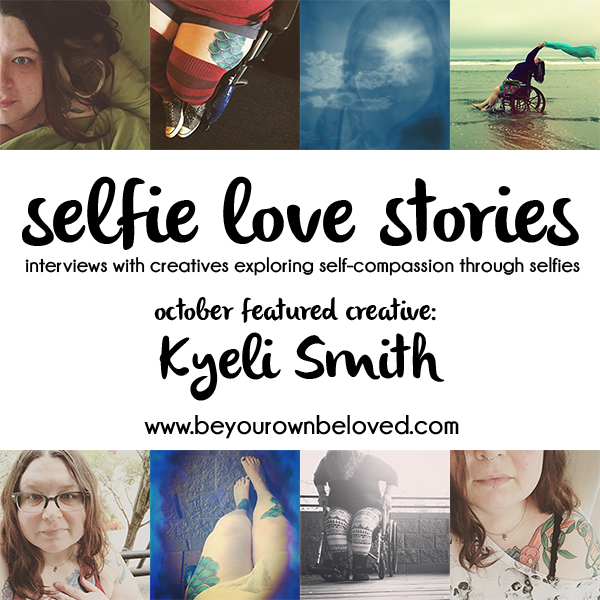 I'm so excited to bring you this new interview series here on the blog where each month I'll be inviting a selfie & self-compassion explorer to join me here to share their story with you. I knew that the first person I wanted to invite to be a part of this series was the wonderful Kyeli Smith. I've been witnessing Kyeli's powerful selfie journey for a few years now and adore her engaging arm's length selfies, her magical way of getting creative with her photos and commitment to showing up and telling her story through her images, even when it's hard.


I can't wait to share this interview with you though I should forewarn you that in the last question you just might need to have tissue's handy as her response brought me to tears!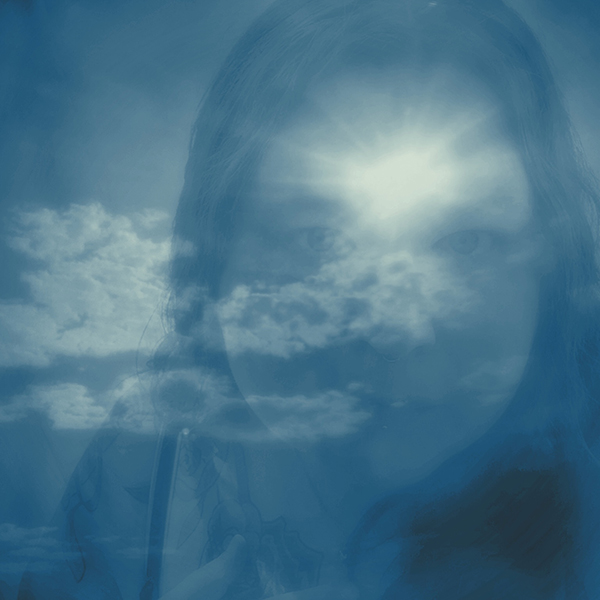 Kyeli, thanks so much for chatting about your selfie journey with me! Tell us…doo you have a go-to favourite selfie style that you do daily or regularly as a practice?
I am a huge fan of the arm's length selfie. It's easy, quick, I don't need a tool, and I've done it a gazillion times so I can whip one out in seconds and get a shot that I love about 98% of the time.

You've taken Be Your Own Beloved a number of times now. But thinking back to that very first time, what was the experience like for you?
Very challenging. I felt excited and nervous every day. The prompts were so gentle and the community was so supportive, I felt encouraged to be brave and step into the work. It was a truly transformative experience for me.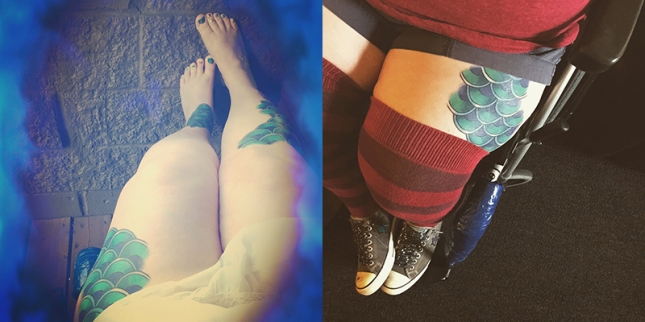 Do you have a favourite Be Your Own Beloved Prompt? Was this prompt outside your comfort zone at first?
Ooh, that would be "The Story of You". I always use this one as a challenge to really step outside my comfort zone and find a part of myself that needs the most love and light, so it's always especially difficult – but always especially worth it.


Have selfies become a regular self-care and self-love practice for you now?
Absolutely yes. It's pivotal for me to stay in touch with myself through my camera. It helps me see where I'm at, where I'm heading, what's real and true for me in the moment. Looking at myself through my selfies keeps me deeply connected to myself.





Was there a turning point for you in your selfie journey as a whole? A photo that really felt like it changed the way you saw yourself? Or was it a gradual process of moving towards kindness?
A little of both, actually. The biggest turning point was when I stepped away from the arm's length shot and took whole-body selfies for the first time. It was like, holy shit – look, I'm just a person who looks… like a person! I took selfies on the beach, standing in the surf at sunset, and when I looked at them I burst into tears. I just filled up with love and kindness for myself – from the roots of my hair to my tippy toes – all at once.
It comes and goes, of course. It's a process, like you said. But yeah, there are photos that give the process quite the boost from time to time. (;

What favourite gear or apps do you use regularly for your selfies?
I am a low-maintenance kind of gal, so I don't use much gear (though I admit to a kind of secret lust for a selfie-stick). I use Camera+ and Pixlromatic+ for all kinds of fun filters and effects, Diana for double-exposures, Fuzel for colleges, and Flipagram for creating short videos from still shots. That's pretty much my entire arsenal.




In the last year you've shared through your amazing Instagram feed how the changes in your mobility have been a challenge you've worked through in terms of your selfie & self-love practice. Your recent photos on the beach in your chair took my breath away. Would you mind sharing a bit about how your selfie and self-love journey has shifted through this time?
I had found a solid place in my self-love journey after years of selfies and self-work, but then in January of 2014, I got hit by a car and pretty much lost the use of my legs. This threw me into a depression that lasted over a year, and in that time, I'd stopped taking selfies regularly. I took them here and there, sure, but not as my regular practice. I ended up falling away from self-love and stopped seeing myself with kindness or compassion – and struggling with massive dissonance between who I wanted to be and who I actually am.
Getting back into the practice of selfies saved my life. I started over, taking arm's length face selfies until I found my comfort again, then challenging myself to take shots of my feet – which had changed, because now they're on wheelchair footpads. Then I'd challenge myself to take leg shots, where you can see the edges of the chair. Then, shots of the chair without me in it. Slowly working myself up to the full-body me-in-the-chair shots. The photos on the beach were a gift to myself, a sort of reaffirming that I am still worthy of love and compassion and kindness. And when I look at them, I have that same reaction as before – a shot of self-love and joy that fills me all the way up.
Returning to the practice of selfies was returning home to myself.




Thinking back to your pre-selfie journey Kyeli…what would you tell her now as she's about to try turning the camera on herself. Or any advice for folks just beginning this journey?


Oh honey, how hard this will be. How you will hate every shot for the first million, how you will cry about your face and your hair and your body and your life. Every trigger you have will be triggered. Every nasty thing you've ever been told will be repeated. Every fiber of your being will tell you to stop, put the camera down, and never look back.
But, my love, this will be the best thing you will ever do for yourself. It will change you to your core. It will open you to levels of self-love you don't even know are possible. It will soften your heart. It will ripple in ways you can't imagine; it's not just you who will change.
Take a deep breath, sweetheart. Take a deep breath, and take that step. Take that first shot – and when you hate it, take another. And another and another and another and don't ever stop, because somewhere in there, you will find yourself. And it will be magnificent.


*

Thanks so much Kyeli for sharing your experience with us! Here's a bit more about Kyeli in her own words plus more about where you can find her!


I'm Kyeli, a wild mystic mermaid. I'm disabled and adventurous, always up to shenanigans. I write stuff (sometimes) and take pictures (often). And I'm obsessed with selfies, in case you didn't already know. Come find me on Instagram (@Kyeli), and give my podcasts a listen at 
wildcrazymeaningful.com
 <3