You are on the beach, your favourite forest trail or your front steps.
You aim the camera at your feet, press record and start telling the story.
The one only you can tell.
Because your journey is unique and unlike any one else's experience.
I have found that creating videos allowed me to share my story in a way no other medium I had tried did, not photography or writing.
Montage is a class all about giving ourselves the tools to turn simple video clips into a powerful video that we can share with others.  That tells that story, the one we didn't even know we needed to tell.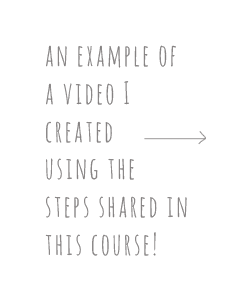 In this 3 week course, I will take you on a creative adventure.
Wait.  A technical course, but a creative adventure?
Oh yes indeed.  In Montage, you will be invited to set aside the vision of some perfect video (you know, we all have it, the one we actually never make) and let ourselves discover the story, the message, that needs to be told through video right here, right now.
It might be for our blog or our business.
Or it might end up being a love letter to ourselves.
Here's the fabulous thing. In this class you will be armed with the tools to create videos in iMovie, but the way we'll get there is part step-by-step and part trusting in the flow of creativity and seeing what happens.
The great thing is that when you take the version of the class that is in community, I will be cheering you on the whole time and will be present to answer any (and all) question you have that might come up in the experience.  Not only will you have that 3 week supported experience, but you will also have the course PDF that allows you to access all of the tutorial videos and course info when you make videos beyond the end of class!
There is also a brand new self-paced version (available as of December 3rd) of the E-Course which comes in the form of an E-Book.  You will be invited to explore the course at your own pace, but you will absolutely be able to access all of the video tutorials and see the steps in action!
So, let me tell you a bit more about the class.
Montage is a powerful yet unconventional 3 week e-course designed to help you create a soulful, storytelling-rich video for your website, business, or  just because you feel called to!
This is a 'make-it-happen' kind of a class mixed with a brave step into our creative joureny!  In the first 2 weeks of the course, each day we'll explore a new element of our video-making process and take a step towards the creation of our masterpiece!  The steps are creative, fun will inspire you to take action in creating a video that tells your story.  This class is a beautiful balance of taking technical steps towards creating this video mixed with powerful worksheets and creative explorations to pull out the story we seek to tell.
I will be available throughout the class to respond to any questions the participants have about the process or their own work, as well as to provide feedback and encouragement.

Inviting people into your world
Giving people an engaging way of learning about you.  It can be a great addition to the front page of a website, or an about page.
Video can spread like wildfire.  It is an incredible tool to spread the word about you and what you are passionate about.
Weaving motion, still images and words together to tell your story.

A Pre-Class PDF to get you inspired to shoot video clips and stills before class begins.
An online classroom space where you can ask questions, explore resources and read each day's lesson
2 Weeks of supportive, step-by-step instruction on how to make a soulful, creative video.  This course is a fabulous mix of creative inspiration to tell the story of you or your business as well as the technical info you need to make a powerful video to let that story have a voice.
Screencast Video Demos of all of the steps that we do in the video editing program
1 extra week of class in which we share our videos, you can get feedback and encouragement from me and and daily posts of video inspiration that will make you want to make another video right away!
A course Facebook group where we can share videos and connect with fellow classmates.  The facebook group will be open for the duration of class and after class will close, but you will be invited to join a Montage Alumni Group if you would like to keep connecting and sharing videos beyond the end of class!
A course PDF so you can take this info and make use of it in the future.

A device that can take video or a camera.  An iphone or smartphone that can take video are just fine.  It need not be an expensive and fancy video camera!
iMovie.  All the demos are based in how to create videos in this program.  It is designed with this program in mind, but for those who don't have iMovie but would still like to take the class I'll also be PC friendly video editing resource for each step (based in Windows Movie Maker) that you can use as an alternative.





Cost:  The course cost is $85 for 3 weeks of inspiration and support plus a pre-class PDF, a course PDF and encouragement from me!
Class Size: I provide lots of support to your technical questions that tend to arise in this class so I do need to  limit the class size to 50 participants.
Dates:  March 4th-22nd
Registration:
Registration is now closed.

Will I get feedback or be able to ask questions?
Yes indeed!  I will be available to provide feedback and welcome your questions throughout the course.
With your other classes there is always a flickr group.  Will there be one for this class?
It is true that I do love the magic of community that happens in the class flickr groups.  It also allows us a space to give each other encouragement.  It does get a bit challenging in terms of video though as you can only upload 90 seconds worth of video to flickr so in the case of this class we will have a Facebook group where we can upload our videos and share them with each other.  I'll also be giving you feedback on your videos there, but if you don't wish to be a part of a Facebook group I am happy to give you feedback on your video via email instead.