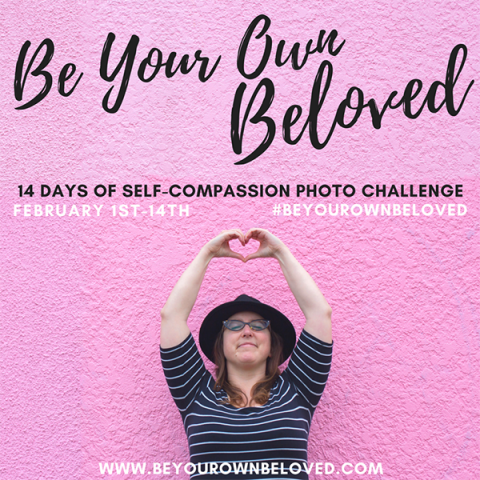 I'm so excited to bring you something this February leading up to the start of the Be Your Own Beloved class on Valentine's Day…a photo challenge!
Each day from February 1st-15th we're going to take a selfie (or a photo in general if you're easing towards taking selfies) inspired by the theme of the day.
You can see all the prompt below and join in each day taking a selfie of your choice. I encourage you not necessarily to try and plan it out, but instead to invite in the energy of the day's focus and see what arises during your day as a moment you could tell your visual story and invite yourself into it in some way.
Or, come on over to my Instagram account at @viviennemcm each day where I'll be sharing my response to each day's prompt and giving some ideas and insight on how you might explore it!
As well, I'll aslo be sharing the daily prompt over at the Be Your Own Beloved Instagram as well as featuring images of folks who are joining in!
If you'd like more inspiration to get you started on this journey, join the Photo Challenge mailing list (you'll also receive my Be Your Own Beloved newsletters by signing up) and I'll send you over a welcome post with more information about the 14 Days of Self-Compassion Photo Challenge as well as a free E-Book 30 Tips for Exploring Selfies (with Love) which contains 30 helpful tips to support you on your selfie path.
Join the 14 Days of Self-Compassion Photo Challenge Mailing List here to get your Free E-Book!
If you're new to selfies but want to give it a try, you might want to get the Selfie Starter Guide where I answer all sorts of common questions that folks have when sparking the journey to see themselves with compassion through their camera!
Now without further ado, here are our themes for the 14 Days of Self-Compassion Photo Challenge! Keep watch on Instagram for some tips to get you started with our first theme on February 1st and be sure to use the hashtag #beyourownbeloved to share your response to the daily prompt!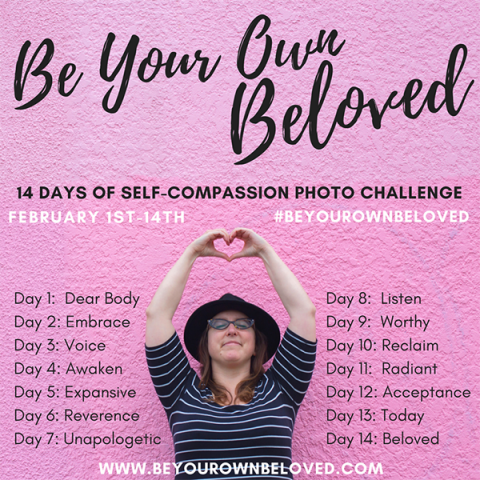 As well, be sure to check out the #beyourownbeloved hashtag on Instagram to get inspired by one another as we explore these prompts together throughout the first two weeks of February.
And this 14 Days of Self-Compassion is going to be a great warm up and way to dip our toes into selfies as a tool for self-compassion before the Be Your Own Beloved E-Course that begins on February 14th where we'll dig even more into the process of using the camera as a tool to change how we see ourselves and I'll guide you through the variety of kinds of selfies we can explore, tips for taking them and how the lens can help us reclaim how we see ourselves back from our inner critic. Come join in for Be Your Own Beloved as well as the free photo challenge!
I'll see you over on Instagram where we'll dig into the first challenge Feb 1st! Everyone is welcome by the way! Even if you're not comfortable sharing your selfies publically yet (there's no pressure to) you might invite a trusted friend to join you and text one another your daily selfies! Tag someone in the post that you'd like to invite to join you for the free challenge!