SELF-PACED CLASSES (available anytime and starts once you register):

Beloved Beginnings is a 10 day gentle program that invites you to begin to step into your photos. This isn't about the typical arms length selfie either…instead we take a variety of self-portraits where you get to decide how you tell the story of you. Spark your self-compassion journey (and have fun in the process).
Find out about Beloved Beginnings here!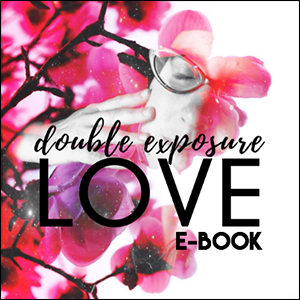 The Double Exposure Love E-Book & Video Tutorials
The Double Exposure E-Course is an exploration of the magic of layering photos. I most definitely have some unique tips and tricks for making your double exposures powerful and magical. The class comes to you as an E-Book + Private Class Page on the Be Your Own Beloved Website which includes activities and video tutorials!
Find out more about the Double Exposure E-Book and Resources here!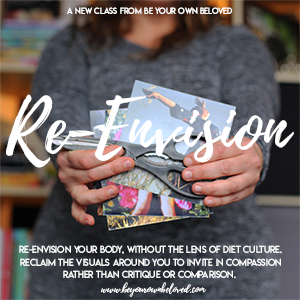 In the Re-Envision E-Course we're using the tool of vision boards, both hands-on and digital and reclaiming them back from the ways diet culture has used them as a tool for creating 'ideal bodies'. Instead we're using them as a tool to invite in compassion for the body we have now and to reclaim and re-normalize the visuals we surround ourselves with.
Re-Envision will soon be available as a self-paced class.