Resources for your Photography, Selfie & Self-Compassion Journey
The Be Your Own Beloved E-Books are designed to answer the questions you might be having on your self-portrait and photography journey, to inspire you to pick up your camera regularly and tell your visual story through it!
The E-Books are definitely a range from the beginner-friendly Selfie Starter Guide to the more advanced Beloved Camera E-Book, but all are designed to inspire and provide you with information, tips, resources and SO many of my favorite self-portrait tricks that you can explore at your own pace!


E-Books:

A guide to help you start exploring selfies. In this E-Book I share both technical information and tips for taking your selfies as well as tips for seeing yourself with compassion.
Find out more about the Selfie Starter Guidebook here!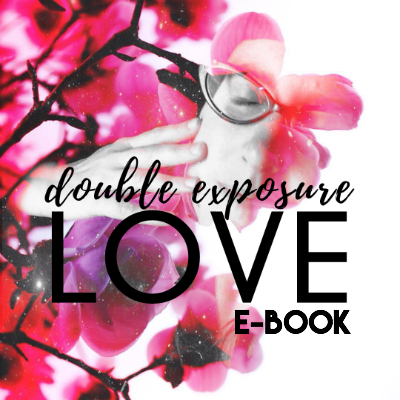 The Double Exposure Love E-Book
The Double Exposure E-Book (which is actually 2 E-Books + Video Tutorials) is an exploration of the magic of layering photos. I most definitely have some unique tips and tricks for making your double exposures powerful and magical.
Find out more about the Double Exposure E-Book and Resources here!
A juicy 60 page guide to getting to know your DSLR as you explore seeing yourself with kindness through it. It's especially designed for Right-Brain folks who want to learn Left-Brain photography information like Aperture, Shutter Speed, Exposure and more…in an experiential way. Get ready to get your camera out!
Find out more about the Beloved Camera E-Book here!