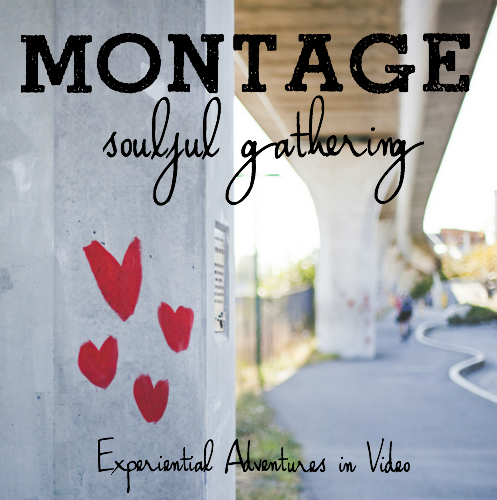 You are invited to take part this new year in discovering ways to tell your story through video.  It invites in the self-reflection and personal storytelling aspect of You are Your Own Muse but through the medium of video.
Montage ~ Soulful Gathering is both an invitation to discover your creative self through telling the art of taking video as well as a gathering of creative cohorts, as there is so much beauty in taking creative adventures in supportive community setting!
The course is designed for experiential discoveries, meaning that it is not about memorizing information about how to take video, but by learning through doing.
Each day Monday through Friday of the session, you will receive a gentle course post in your inbox inviting you to take out your video cameras and gather video clips inspired by your day.  Each week explores a theme, so you are not pressured to shoot entirely new content each day but rather to settle into the journey of the week and learn about capturing moving pictures.
This isn't a 'movie making' class but is about discovering video as a creative tool to tell our stories.  The daily prompts are also designed to not tell you what to take video of, but rather to discover your own interpretation of the idea…inspired by your life, your geography, your story!
One of reasons the Montage class keeps selling out is that Vivienne is deeply commited to helping you open the door to a medium that you may not have tried before.  It is easy to get stuck if a technical question arises, but Vivienne is available through the duration of the class to help you get to know how to use
You are invited to:
Discover how video is powerful way to let your story, your personal narrative unfold.
Discover the wonder of capturing moments through video
Learning about your camera and visual storytelling techniques through playful exploration of video
Join a supportive creative community

Dates:
The course runs January 7th-February 1st, 2013.
You Receive:
Daily posts in your inbox Monday to Friday for four weeks with daily invitations for ways to tell your stories through video.  The daily posts are gentle and invite you to let your story unfold.
For a more in-depth experience of the class, there is a classroom space where you can explore the days prompt in community space, where there will also be extra resources and inspirations for you.
A Weekly video in the classroom in which Vivienne invites you to come along on a video gathering walk with her and provides further inspiration for you on your video adventures including a where Vivienne introduces you to the tools you might be using to create your video (an iPhone, a hand held video camera like a Flip Camera or a DSLR) and gives you tips for taking video with each
A month of technical support from Vivienne
A PDF with all of the class content to continue your exploration throughout the year
An invitation to a Private Flickr Group to share video clips and still images from your adventures.
A soulful community experience
Bonus:
A Bonus to taking one of Vivienne's in-depth classes is that you receive support from Vivienne throughout the class.  Though you are invited to use any gear that you already own (an iPhone, a flip camera or a DSLR are all great options).  Much like with the original Montage, Vivienne is available throughout the class to answer your technical questions as they arise.
Who is the class for:
The class is designed for those folks who are seeking to tell their stories through exploring video.  It is designed to welcoming for those just beginning to explore video as well as participants in past or future sessions of the Montage class who are craving inspiration to help spill out their stories into video.
What You Need to Take Part:
You do not need fancy gear for this class.  The activities are designed to be used with any type of video camera.
You could use an iPhone camera, a hand held video camera like a Flip or the video on your DSLR
How To Register:
Registration is now Closed