2014 Events:
PDX Be Your Own Beloved Photo Walk!
Dates: July 11th 12:30-2:00 pm
Location: Downtown Portland (exact location TBA)
I'll be in Portland to attend the World Domination Summit in July & thought I'd put out the invite to join me for a meet up & photo walk!  Whether you are in town for WDS too or you live in or around Portland, I hope you'll come join me as I'd love to meet you! Of course, it isn't a actually a workshop but I will have a couple of activity suggestions for us to try!
Head on over the Facebook Event Page to join in & keep updated on the location we'll meet at!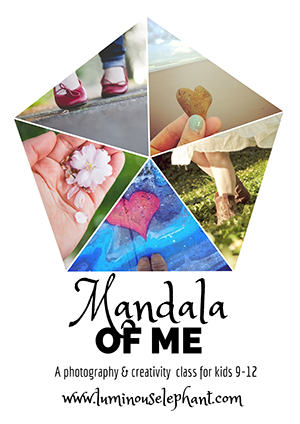 Mandala of Me Workshop (for kids ages 9-12)
Dates: July 28-31
Location: The Luminous Elephant Studios, 4406 West 10th Ave, Vancouver, BC
I'm thrilled to be teaching at the brand new Luminous Elephant Studios run by the magical Madelyn Mulvaney. I'll be teaching a workshop called Mandala of Me for kids to explore telling their story through their cameras! We'll have such fun telling our visual story through taking self-portraits and capturing the beauty around us and then end the week creating a Mandala Craft that will remind us of all that we learned about ourself & the magic we see through our cameras.
Get more info or register at the Luminous Elephant Studios Website!