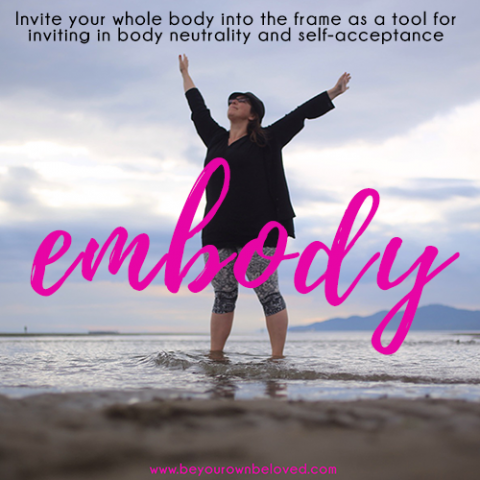 Are you ready to take photos of yourself and smile at the person looking back at you, seeing yourself clearly through a lens of compassion…and not just a photo of your wonderful face. Yes, I'm talking about photos of our whole body.
Are you finding you love taking arm's length selfies but know that going beyond them feels outside your comfort zone and you could use some inspiration and support?
Now, I want to pause and say this…that all selfies taken with compassion in mind are a reclamation, a way of stepping into your power. Whether it's the tips of your toes or your hand reaching into the frame. All are worthy. All can be tools of reclamation and healing. I believe this wholeheartedly.
Yet, there's something I notice about the energy of taking a full body selfie. There is a power to it. There is a YES that it sings. There is often an energy of "it's time to stop hiding" to it too. There's a power in claiming space in this way that really feels like a reclamation created ripples into our lives as a whole.
In my own body compassion journey, this was a turning point for me too. It felt dramatically different to take a self-portrait where I put the camera down. It was as though an arm's length selfie could only take me so far, as important as they were and still are.
The feeling of putting the camera down and stepping into the frame was vulnerable. I didn't know where to put my arms or how to move. But those questions were invitations into this new stage of my own reclamation of my body and self-image through the camera.
And then the vulnerability shifted into feeling empowered and embodied.
As I kept putting the camera down, I would feel that vulnerability and I found a number of tools and activities that helped me shift that vulnerability into feeling empowered. Those activities are what I've gathered together to share with you in this program.
When we go beyond arm's length photos, we meet ourselves with an invitation to explore what makes us feel embodied and empowered. We claim space in the frame. We claim space to feel present in our body again. 
We become the narrator of our own story.
You get to narrate your own relationship with your body and reclaim your voice.
You get to choose to step into the frame and let yourself be seen..by you first and foremost.
You get to explore taking selfie as an empowerment and body acceptance tool.
I believe it can be a healing tool for us all and I've had the absolute honor of getting to see this happen throughout the last 5 years of teaching online self-portrait classes and helping thousands of folks reclaim how they see themselves through the camera, choosing a voice of compassion over critique.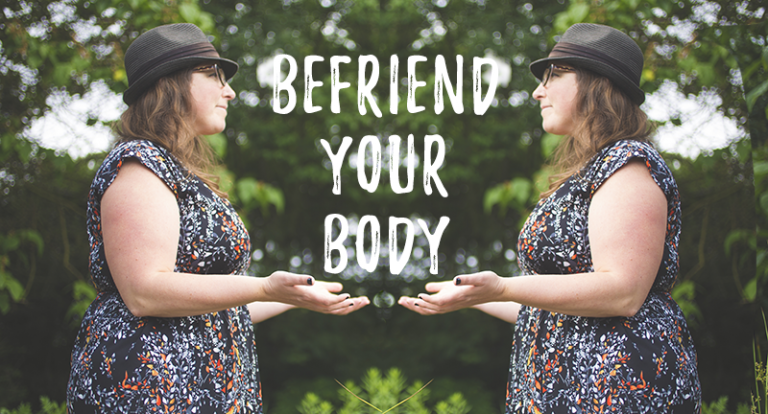 In this 15 day class running November 1st-15th, we're exploring the camera as a tool to find that quiet place where we are in control of how we see ourselves. We're exploring body-neutrality and see our body through a lens of non-judgement. Does that mean you need to love every photo? Absolutely not. In fact, outtakes are an important part of the process. But what we're doing in this class is taking a brave bold step beyond the fear of seeing our whole body in photos.
We'll claim space in the frame and explore the tools we might need to make this happen (hint…you don't need anything fancy, a phone with a timer app is perfect and I'll recommend some for you, though all kinds of cameras are welcome).
This class is focused on being body-positive and all bodies are welcome. You don't need to already be comfortable in photos to take the class either, because that is the work we are doing here. It is especially designed for folks who aren't used to seeing themselves in photos and are ready to push their edges and explore seeing themselves in photos.
And why might we want to get more comfortable having our whole body in photos?
To be in photos with our loved ones and feel more prepared as well as resilient afterward as we look at the photos
To help us stop hiding behind the camera and get more comfortable being in front of it
To be a part of the visual story of our own lives, both the everyday moments as well as the important occasions
To be able to start shifting our focus in photos towards a more compassionate place which of course will free us up from some of the time we spend worrying about being in photos!
To feel empowered to take the kinds of photos we've been wishing we could…be they of our yoga practice, dancing freely, outfit of the day photos, images for a dating profile or photos that simply make you feel downright powerful and embodied.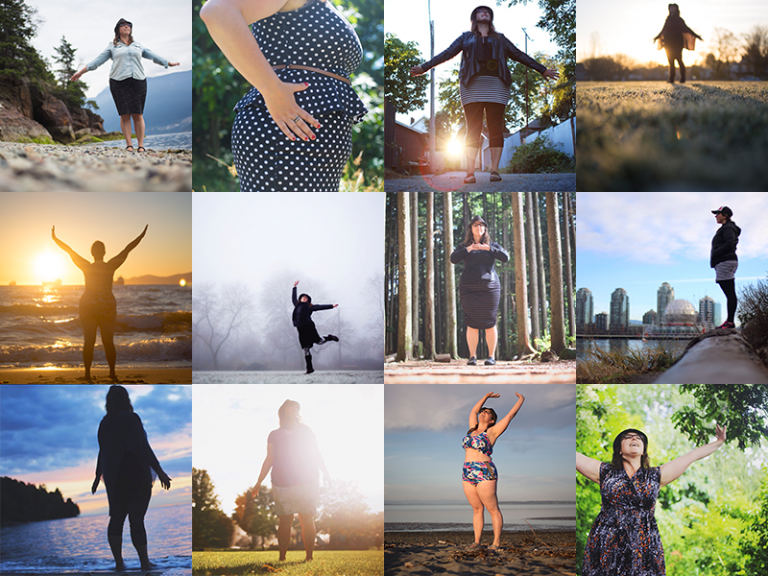 Explore easing yourself, into the process of having your whole body in the frame. We'll playfully explore activities that will help you do just that.
Claim space in your selfies and let yourself step proudly, boldly and fully into the frame.
Explore perspectives and ways of seeing yourself and learn to feel empowered in them.
Normalize seeing our bodies in photos. The more we participate, the easier it becomes.
Get comfortable setting up our timer and getting into the frame.
Explore feeling embodied in our photos, letting go of the camera and exploring being in our bodies in photos.
Explore the idea of seeing your body with neutrality and the potential of seeing yourself with non-judgement
A camera of any sort. iPhones and Androids (or camera phones of any sort) are most welcome. As are point and shoot cameras or DSLRs. No fancy gear or camera skill required, just a willingness to be inquisitive and have fun with your camera in the process!
If you're using a phone I recommend having a Remote Timer App like Gorillacam (if you have an iPhone) or if you have an Android you actually have a great built in timer (and I'll help you find it).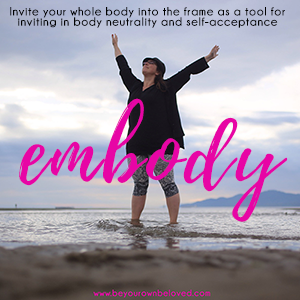 Dates: November 1st-15th
$79 CAD (Approximately $57 USD)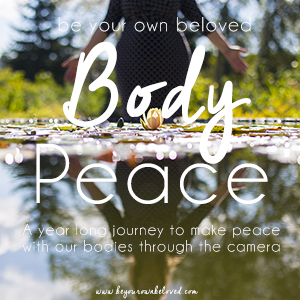 The Embody Class is a part of the year-long Body Peace program exploring the camera as our ally in exploring body acceptance and selfies as a tool for radical self-love. But of course, you can also take it individually. If you're a part of the 2016 cohort of Body Peace, you're already registered.
If you're interested in getting on the interest list for the 2017 Body Peace Program from Be Your Own Beloved, add your name in here! 

What kinds of selfies will we be taking?
There are SO many options for taking selfies (far more than just the typical arm's length selfies) which the Selfie Starter Guidebook does cover! But in this class, we're focusing in on a certain type of selfie, being a full-body photo. Of course, we're going to be taking a whole variety of full body photos and have lots of movement and creative exploration.
If that is feeling like a big jump, ponder joining me for the Be Your Own Beloved class for a variety of self-portrait explorations or if you're wanting to explore full body photos, this is your class!
Do I need a remote? Or a tripod?
These two things are totally optional for the class. What you will need for sure, is a timer of some sort that can allow you to put down the camera and step into the frame? If you have an iPhone there is a basic timer in your camera but I highly recommend getting the Gorillacam app which allows you to take a burst of photo. If you have an Android phone, good news…your phone comes with a great built in timer burst mode! If you have a point and shoot or DSLR and aren't sure if your camera has a timer, feel free to contact me via the contact form and let me know what kind of camera it is and I'll help you figure that out.
If you have a remote or tripod, wonderful…but I'll also be sharing some DIY suggestions for taking your photos without a tripod (which is how I take my photos) so there's no pressure to go out and get one!
What if I have questions about how to take the photo? If I'm not sure how to actually get myself into the photo?
That's what I'm here for! I'll be offering you lots of suggestions for getting yourself in the frame throughout class (especially at the beginning) but of course, I'll also be available to help answer your questions throughout class! So don't worry if you haven't done this before, I'll support you in making it happen.
What if I love the sound of the class, but am worried I'm not 'ready' for the class yet. Any suggestions?
This might not be the ideal first class to take with me, only because I find it can be helpful to ease ourselves into the process through the Be Your Own Beloved 30 Day E-Course in which we'll do a whole variety of kinds of selfies and ease you into the process of seeing yourself with compassion. I recommend joining the October session of that class before you take this one (and yes, you could definitely do them in combination this October and November).
But I also find that people in the 30 day class are SO eager to jump in and take full body photos. If that is you, well that this definitely might be the place to begin.
As well, if you haven't taken a class with me yet, you might want to start with the Selfie Starter Guide (an E-Book) or the Beloved Beginnings class (a self-paced E-Course).  Please do feel free to click the 'contact' form and I can help you figure out which class would be best for you in particular!
How much time do I need each day for the class?
The prompts are designed to take only a few minutes to read and then about 5-10 minutes to take a selfie. I'll remind you regularly that these aren't about taking fancy selfies that you need to take hours for. It's about showing up for ourselves in front of the lens and going for it.
My inner critic doesn't show up when I take selfies and I love capturing photos of myself. Can I still take the class?
If you take selfies with ease and never have your inner critic show up and curate what you share…awesome! But in that case, this class probably isn't for you and you may find yourself thriving more in a more artistic based self-portraiture class or another program. This one really is for folks who struggle with taking selfies and resist being in images (which by the way…is where most of us fall)!
Should I take Be Your Own Beloved first?
If you've taken Be Your Own Beloved or Beloved Beginnings first that is recommended but not mandatory at all. Please don't hesitate to contact me via the contact form if you have any questions or are wondering it is a good fit for you.
I took Be Your Own Beloved but didn't do all the activities. Should I take this class?
YES! Absolutely. If you have taken one of the other classes but perhaps didn't finish all the activities, let's invite that to be a place of self-compassion. This isn't about having done ALL the activities first but instead having offered ourselves some space for exploring selfies with kindness either through a class or on our own. Whether it be one photo or a hundred. This class actually isn't for folks who have no problem taking selfies, it's more so for those of us who find ourselves facing our inner critic when we do. It's about letting ourselves have more tools to meet our inner critic there and invite in kindness.