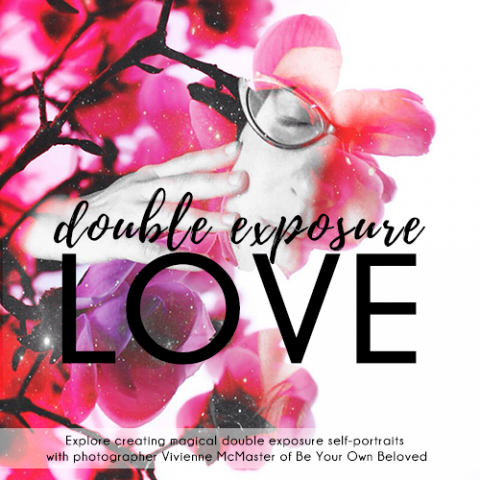 Explore the magic of Double Exposures!
There is something so magical about double exposures isn't there! They take an everyday photo and make it other worldly.
If you're not sure what a double exposure is, prepare to fall in love! They are simply layering one photo on top of another. What happens is often something truly magical!
You can make images just like the ones you see here and I'm going to show you how.
These days they are becoming so much more easy to experiment with, through apps on our phones, yet there are some special tricks and tools that can take our double exposures to a whole new level of creativity! In this interactive E-Book, we're going to dig into how the types of photos we use, noticing their contrast and light as well as letting go of our expectations of the outcome can all take our double exposures to a new magical perspective.
As the Be Your Own Beloved classes are also about seeing yourself with kindness through our camera, using our self-portraits in our double exposures can be such a powerful experience, perhaps taking an outtake or a photo we didn't love and merging it with another photo to create something that tells a powerful visual story and it just might make you glad you didn't delete that photo after all!
The E-Book Package Includes:
The Double Exposure Gathering E-Book which will help you collect images from your archives as well as take new ones to make use of during this class!
The Double Exposure Activity E-Book. Which includes 5 Activities full of Double Exposure Gathering and Experimentation. In each activity, we'll collect and experiment with specific types of images that really help your Double Exposures rock and I'll spill all the secrets of the reasons why these kinds of images work so well.
Access to the Double Exposure Classroom that contains video tutorials for you to explore. There are introductory tutorials for you to explore at the beginning of the exploration to learn about the tools as well as a second series of tutorials to explore at the end of class to dig in deeper after you've had fun getting playful with your double exposures throughout the week!
Video Tutorials Include:

A Tutorial on How to Use the Diana App
A Second iPhone tutorial exploring other App Options
Creating Double Exposures with PicMonkey
Exploring Double Exposures in Photoshop & Pixlr Editor
What are Blend Modes and what role do they play in our Double Exposures?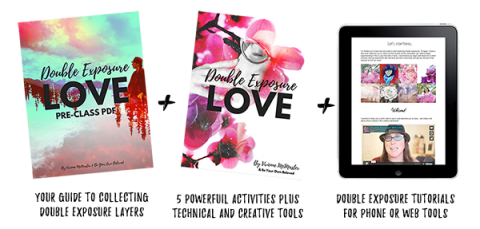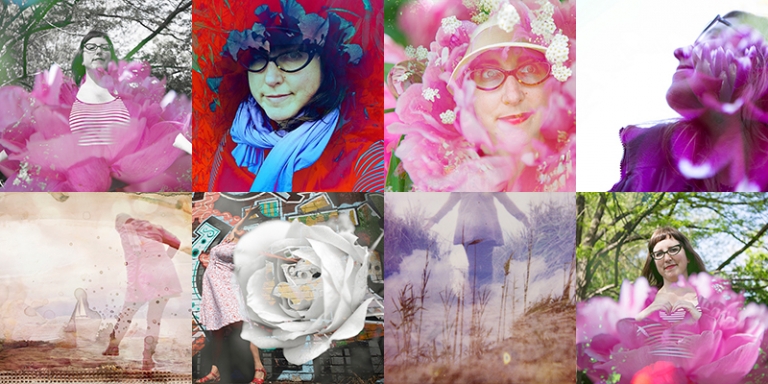 We'll explore:
iPhone Apps for taking double exposures. I'll give you an in-depth look into how to make amazing double exposures with the Diana App and will share resources for both iPhone and Android Apps.
Creating Double Exposures on your Computer. I'll provide you with a tutorial for using both the free site PicMonkey as well as Photoshop (don't worry, you don't need to own photoshop at all).
What makes an extra awesome double exposure? We'll explore how contrast, texture and light and shadow are pivotal elements to really getting your double exposure to stand out from the rest.
Letting go of perfectionism in the process of taking our double exposures and why they end up being more magical when we do!
Telling our stories through double exposure self-portraits
What is Opacity and Blend Modes and why are they an important element to play with in your double exposures
What do you need:
Access to the video resources via computer
Either a phone or camera to capture images for double exposures
A collection of photos to use to experiment with during the class itself. They can truly be simple images, outtakes even, and I have a feeling that you already have all of these photos on your computer or phone image library!
Cost:
The E-Books, activities plus the video tutorials are:
$29 CAD (approx $24 USD)
Get the Double Exposure E-Book Kit: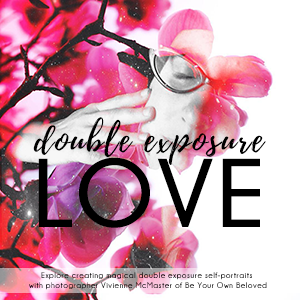 Click below to get the Double Exposure E-Book Package.
You'll be immediately directed to a page where you can download both E-Books and get access to the tutorials so the journey starts right away!

Questions?

Do you have any questions? Here are some frequently asked ones but if you have a question that is not listed here, please feel free to click the contact form and ask!
What if I don't take self-portraits? Can I use photos of me that other people took?
Yes, absolutely! One of our activities will be taking self-portraits to use in our double exposures but you can most definitely use an image someone else took of you or even a photo of someone else. There is most definitely flexibility in this though it just might be fun to try the selfie activity without the pressure to use it in your double exposure!
One magical thing about double exposures is that as we layer our images, we don't see ourselves in  the same we would an image on its own so it really is a great way to ease into sharing your self-portrait if that is normally outside your comfort zone!
How long are the videos available for? 
The videos are available on an ongoing basis so there is no rush to check them out. I do encourage you to look at the video resources while you're feeling inspired and you definitely might want to save a few of the more in depth videos for a few weeks until you've played with the apps a bit first.
What if I don't have a phone? 
There have been a wonderful variety of iPhone Apps that have been created to make creating double exposures easy. One of the tutorial videos is indeed about using a phone (I'll be suggesting Android apps as well though the demo will be on an iPhone). While this tutorial will be about that gear, I have a feeling you'll get a lot of great ideas for your double exposures none the less!
Are the video demos subtitled?
Yes, for deaf participants or those who could use the extra support of subtitles, you'll find them on each video under the Closed Caption button located on the bottom menu bar. Unfortunately, iPhones don't seem to show the subtitle within the videos (on Vimeo) even though they are there, so in order to watch with subtitles, you'll need to watch it on a computer.
It says the prices are in CAD. What would that be in my currency?
Indeed, I'm Canadian, so the prices in Canadian currency but when you put the class into your cart, PayPal will let you know what it will be in your currency before purchasing the class. You can check here to get a sense of what it would be though it may be a slightly different rate via paypal.
If you have any further questions about this don't hesitate to click the contact form and connect with me!