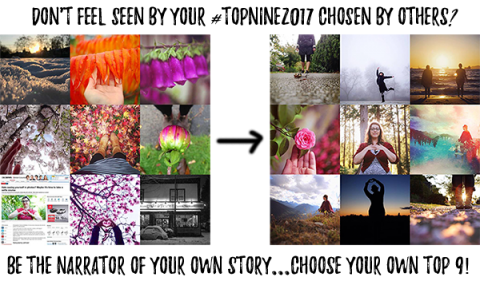 You're probably seeing lots of folks post their best 9 photos today as the year ends and we're look back…and getting ready to move forward.
I'm all about tools for looking at our visual story so when I first heard about this tool a couple years ago, I was mighty excited. You can find the 2017 BestNine site here. It gathers together the nine most liked photos on your Instagram feed in the past year.
Except when I tried it a few years ago, I was surprised at what I saw. I was caught off guard at my reaction to it. It's the one up top there on the left.
For saw that for someone who pretty much posts selfies, I was barely in my own top 9. That seemed so unexpected. There were lots of flower photos that folks liked but well, I'm not a flower photographer.
At first it actually really bothered me. Did people not want to see my selfies? Am I driving them crazy with all this talk of body acceptance and selfies when all they wanted was serene nature photos? Don't worry, I know that's not the case but just wanted to share my now internal dialogue at that moment (which of course is often fairly off base and reactionary).
Well, thankfully…I got over it and made my own best 9.
The lesson being of course, that we don't have to define ourselves by other people's likes and comments. Sure, it's awesome when it does help us feel seen by others but we can't define our worthy by that. We can't only post what we think other people want to see. I actually see that happening in some ways in the body acceptance community which worry me (and honestly feel like diet culture imagery in a new form) but that's something to rant about in another post!
All that to say that if you don't feel seen in what other people are 'liking' the most…make your own.
Define your own visual story.
Create your own vision of your life, through your own lens.
Let yourself be seen by YOU first and foremost and prioritize that vision. 
When I talk about the concept of #takeyourselfieforyourself that's what I mean. Make sure you're clear on what YOU feel about your self and the images you share first. Share what makes YOU feel seen rather than trying to please everyone else and post what you think you 'should'. Because when we let ourselves feel seen by ourselves first and foremost then likes and comments become a bonus rather than where we define our worth. 
And yes, the last few years of best nine photos were a good challenge for me in that case!
In a way I think it's a good thing some years for us to have a different perception of ourselves than of what others want from us. It's often where we wake up to our own needs, our own internal voice, our own self-definition. It can wake us up to where we feel missing in our own story and where we want to choose to narrate it differently.
My best nine this year…I LOVE and you can see it here. Mostly because it has lots of photos of my sweetheart and I as well as some other pivotal moments of the year like when I did a workshop and we all gave the camera the finger (fuck the patriarchy style) and I took that centre photo after. That one makes me smile big time!
I'm still going to make my own version too, though it will still include lots of those couple photos as that was a pretty pivotal and wonderful part of the year (yup, the be your own beloved lady is letting herself be someone else's beloved again)!
So I want to challenge you, if you don't dig your best nine of this or any year. Make your own. What are YOUR top nine images you shared in the past year. Which ones mean the most to you? Which ones allow you to feel seen in the way you are yearning to?
It might even be a powerful reflection practice to look at what people celebrate you sharing and whether that fits with what YOU want to share, how YOU feel seen, and what lights YOU up. And if you found that you weren't in any photos on your top 9 because you've been avoiding the camera… and you're waking up to the fact that it's time to get back into your own visual story and let yourself be seen, come join me for the upcoming session of Be Your Own Beloved and I'll help you re-emerge into visibility as we explore selfies as a tool for self-compassion!
If you have posted your best nine, I'd LOVE to see it whether it's your own version or the websites version! If you're on Instagram use the hashtag #beyourownbeloved (especially if you have selfies as a part of your mosiac this year) or share a link in the comments here so we can find you and see your look back at 2017!