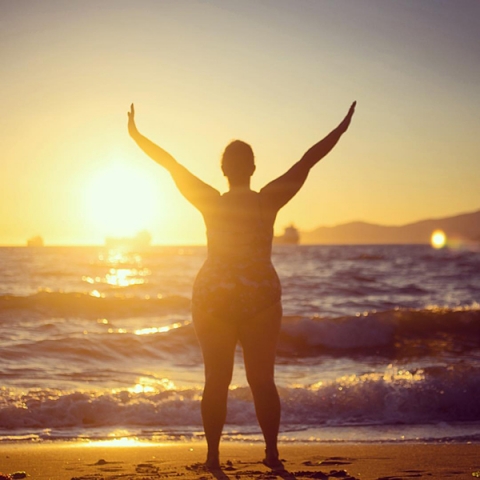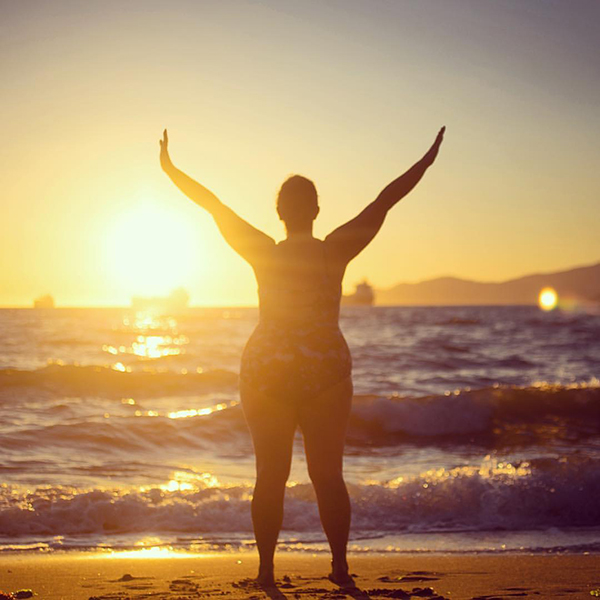 We sat on the beach for a while, chatting, with the thought of going in the ocean on our minds.
I assumed it would be incredibly cold, being mid-September and all. Painfully so. I imagined how hard it would be to get in the water, how I wouldn't want to be in there, and how cold I'd be afterwards. I was assuming the worst.
But I was going to try, maybe even just wade in, if my friend wanted to.
The sun set further and the air temperature got colder, I felt further away from the possibility of getting in the water. The idea had passed in my mind and I'd convinced myself not to.
Until Danielle said "Let's go for it".
I still doubted the possibility that I would actually get in. But I was willing to go on the adventure and support her.
And really, what if it was okay? What if it might even feel nourishing?
We took only a few steps into the ocean when the first big wave hit. And then followed up by 2 more.
I literally howled with laughter. Doubled over with when not jumping gleefully over the next gigantic wave approaching. And they kept coming. Within 10 seconds I was soaking head to toe (forget wading in) and in a full on laughing fit.
It felt amazing. Not just the water (which wasn't nearly as cold as I'd feared) but the waves and the laughter. I laughed because the idea I'd had of slowly wading in, at my own pace was well…really just being lovingly mocked by the ocean in these gigantic waves in the most beautiful way.
It felt utterly divine. Jumping in the waves like I did as a kid, howling with laughter with not a care in the world what anyone on shore (and yes, there were lots of sunset watching folks) might think.
You see, when I'm laughing I feel most inherently me, closest to my true self.
So this moment that I'd been fearing, theorizing how it would go, placing outcomes on.
Was completely out of my control. And magical. And beautiful. 
And invited me home to myself. 
Before we left, I put the camera on my bag and snapped a few selfies, arms wide to the sky.
The usual thoughts that would come with this moment arrived and were swiftly dealt with. Thoughts like "I wonder what people might be thinking about me right now" or  "Maybe this will look better if I put my hair down" or "I wish I had of worn my cooler bathing suit" came and left quickly because the ocean had just swooned me with it's wildness and these things didn't seem as important as that.
And I wanted to remember this.
Because the camera helps me cultivate this conversation with myself. It reminds me of what brings me home to myself. It invites me back into that moment, again and again. This one moment in the ongoing visual story of my own life.
Since that moment yesterday I've been thinking about the fear, the expectation, the choice to go into the water and the wonder of getting caught up in the joy of it all, realizing how it was so different than I expected and that the hardest part really was that first step in the water. It made me think of folks before they join me for Be Your Own Beloved.
It made me think specifically of folks who email right after they have signed up for the class sharing how utterly terrified they are (and by the way that is exactly who I create this work for…not for folks already comfortable with themselves in photos). Those emails I'm getting these days as the next Be Your own Beloved class gets started in October.
I know this work can feel scary.
I know the idea of cultivating a compassionate conversation with ourselves is hella vulnerable.
I know that often we come to it with whole list of expectations of ourselves and how it's going to go, often defined by our past experiences with photos.
And then it's almost always those same people who feel that fear but do it anyways, who write me after often just a few prompts or the first week and it's though they are standing in that big wave with me, shocked at how playfully they are jumping in the waves, prepared for the white caps where you kind of need to brace yourself for the vulnerability and standing in that energy that I experienced in the laughter last night…knowing that it was far different than what they'd feared and far more nourishing (and fun) than they could have imagined. 
Feeling closer to their true selves than they have in ages.

Sometimes it's the ocean that brings us home. Sometimes it's the camera.
And it's always worth taking that first step into the wild unknown.
*
If you are interested in joining in for Be Your Own Beloved you can find out all the details here but also don't hesitate to use the contact form to connect with me and ask any questions that are coming up. I'd love to hear from you.