Join me for a photo walk and let's let our cameras lead us to beauty. Because there is always beauty around us to be found. We'll let our cameras draw us in to focus on it, swoon over it, let it take our breath away. Let your camera explore it and unapologetically capture its beauty. Let curiosity reign and welcome in the wonder that can happen when we slow down and engage with the natural world through the lens.
Let your step retune itself to your breath. Feel a shift as your to-do list drift away for these few hours as we focus in on the beauty around us and let ourselves swoon over it with our cameras.
We'll let the beauty draw us into the moment, let it fill our memory cards with images, without apologizing for how many we're taking or for claiming this time and space for ourselves.
Then, we'll widen our gaze to include ourselves. We'll invite ourselves to be a part of the circle of beauty we seek. Through the lens and guided activities, we'll explore seeing ourselves with that same curiosity and wonder.
This kind of photo walk is at the heart of my own photo practice. It is at the heart of all the activities here at Be Your Own Beloved. And as we seek out the beauty around us, we realize that we too are a part of that beauty. That we can look through the camera and open up to offering ourselves the same reverence we offer the beauty around us.
In this guided photo walk (with lots of space to wander solo and take your photos) I will introduce you to one of the practices that I've been doing for 10 years and will be a heart opening step into using the camera as a tool for self-compassion.
Join me and explore the beauty around you and within you.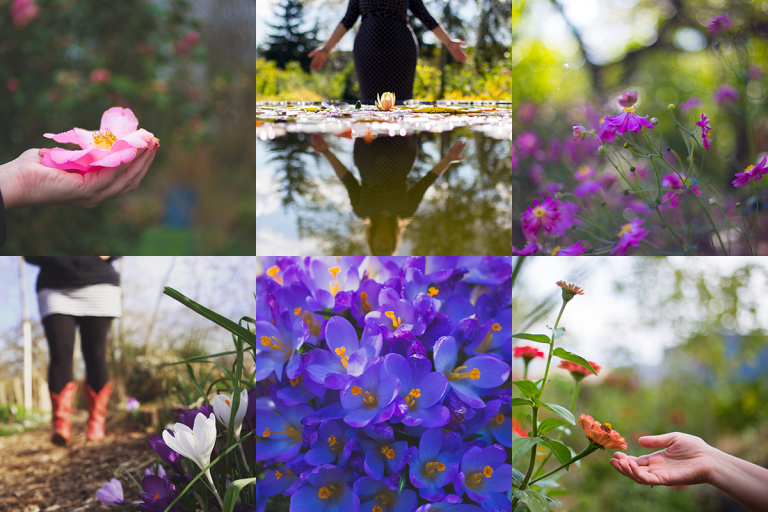 The Photo Walk Workshop Includes:
A guided photo walk through a gorgeous and inspiring location
Experiential activities led by Vivienne for you to explore in the moment and invite into your life as a self-care photo walk practice beyond the photo walk too.
We'll definitely do a few self-portrait activities, but this will be low-pressure and you'll always have the option of taking another type of photo (so yes, photography and selfie beginners are 100% welcome)
Encouragement to leave your inner critic behind and be willing to take lots of outtakes in order to get that one photo that has you grinning ear to ear
A space to ask the questions you might have wondered about taking both photos and selfies
 The Details:
2 hour photo walk and community connection
Only 10 spots available in each photo walk
No fancy gear necessary. Smartphones totally welcome (though I'll probably recommend you put it on airplane mode so you can be present with yourself and with us and offer yourself that self-care space).
You Will Want to Bring:
A camera (of course) with lots of room to take photos on it. Clear your photo stream or memory card and charge your battery
A journal to explore a writing prompt I'll be giving you during the photo walk.
Dress for all weather! Sunscreen or a hat weather, bring an umbrella in case of rain.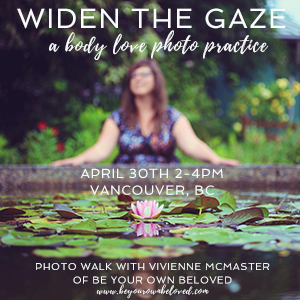 Vancouver Widen the Gaze Photo Walk: April 30th, 2-4pm 
Date: Sunday April 30th, 2-4pm
Location: The Vancouver Photo Walk takes place in the Cottonwood & Strathcona Gardens, East Vancouver, British Columbia, Canada (aka my favourite garden and all the photos you'll see on this page are taken there).
Register for the Vancouver Photo Walk (10 Spots Available)
Cost: $49 CAD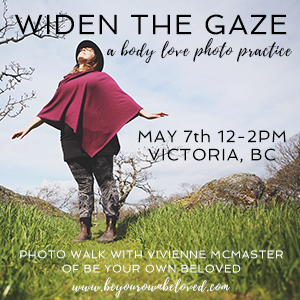 Victoria Widen the Gaze Photo Walk
Date: Sunday May 7th, 12-2pm 
Location: The Victoria Widen the Gaze Photo walk is taking place in a magical spot in Beacon Hill Park in Victoria, British Columbia, Canada.
Register for the Victoria Photo Walk (10 Spots Available)
Cost $49



Mini-Photo Walk Session (available for both Vancouver and Victoria):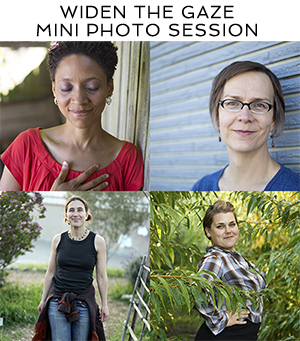 I have availability for 2 mini photo sessions after each of the photo walks. In this photo session it will just be you and I (your fellow mini-photo session friend will be invited to keep taking selfies and enjoying the surroundings while we take photos).
The mini photo session includes:
A half hour photo shoot in our beautiful garden location
20 of the best photos from our time together sent your way within 2 weeks of the photo session
This is a rare chance to do a photo session with me at a much reduced price. This kind of mini photo session is perfect for someone wanting to have some new profile pictures for social media (or dating) or gift themselves with the experience of having a photo shoot, especially after having time to get comfortable with the setting and your own camera during the photo walk. If you'd like a longer photo shoot or a 1-on-1 photo walk experience, check out the Beloved Sessions option.
Book your Widen the Gaze Photo-Walk & Mini-Photo Session
*Note, the 2 Victoria Sessions are booked but there is still 1 spot available for the Vancouver Photo Walk + Mini Portrait Session*
Cost : $149
Let me know here which city you're booking in for:
Your Photo Walk Guide: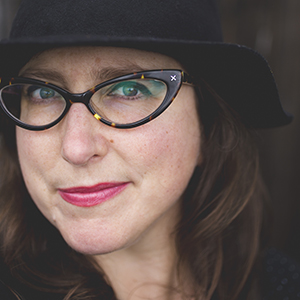 Hi! I'm Vivienne, a photographer, workshop leader and positive body image advocate from Vancouver, Canada and the force behind Be Your Own Beloved. I'm absolutely honored that I get to help folks around the world see themselves with compassion through their own camera lens. My photographs have been seen in such places as Oprah.com and The Huffington Post. The camera and self-portraiture helped me heal my own negative body image and she's now on a mission share these tools and help women choose compassion over critique, one photo at a time.
Since that time photo walks have been a pivotal part of my own self-care practice and I'm really excited to share these tools with you. This process truly isn't about getting things perfect or right or needing to know anything in particular about photography, it's about creating space for ourselves to engage in the wonder around us and let it be a tool for being in the moment and filling up our own well. 


Questions:
Can I just do the mini portrait session?
Alas, no. The photo walk plus the mini portrait session is designed to be a smaller version of my Beloved Sessions offering and the photo walk will get you feeling comfortable with our location and with your own camera before I take your portrait. This does wonders for us in terms of helping us feel more comfortable in front of the camera…which will make doing a shorter portrait session much more comfortable than if you showed up for a quick 30-minute portrait session with a stranger! During that 30 minutes all my attention will be focused on you but if you'd like to have a 1-on-1 photo walk + portrait experience or set up a portrait session outside of the Beloved Session option, please don't hesitate to connect.
What is the accessibility like in this garden?
The paths in the Vancouver garden are quite wide but are primarily covered in wood chips, so is likely not going to be suitable for a wheelchair or scooter (my apologies…the next location I have in mind for a photo walk will be based on sidewalks and I'll be making sure we do a route with proper sidewalk ramps). We will be wandering at a slow and gentle place and there are numerous benches and places to rest along the way. There is a small restroom along the way as well.
Will you be instructing us on how to take our selfies (and maybe giving us a glimpse into how you get yours)?
You bet. I'll be inviting you to do a variety of types of selfie activities (we go way beyond the arm's length) and I'll be giving you instruction on how to do them as well as encouraging you to be experimental in the process. I'll also show you how I get a lot of my photos and share some tips and tricks that can only be taught in an in-person experience. I hope by showing you how I get a lot of my self-portraits it will help demystify the process and empower you to take your own.
Will you be teaching technical camera skills in this photo walk?
I won't be directly teaching technical skills in the workshop though they will naturally come up as I show you how I take my photos. I find that often feeling like we need to know everything about our camera in order to take photos gets in a lot of people's way. Instead, I encourage you to use any kind of camera that you're most comfortable with so you can let yourself get caught up in the wonder of taking photos rather than the technical side. That said, I'm keeping the participant size small as I'll be making space to talk to each participant and welcome in any questions, including technical ones. You'll naturally learn more about your camera by taking part through the experiential way that I like to teach these activities and I hope the photo walk will have you wanting to pick your camera up and experiment more!
What will happen if it is raining?
If it is a cloudy day with the chance of rain, please do bring an umbrella and prepare for the weather. I expect it will be a lovely day whether it's sunny or not and photo walks are such great self-care, and not just on the gorgeously sunny days. They are almost even more important on the grey days too, right! There will be beauty awaiting us no matter what the weather is but if it's looking like the weather is too much I'll connect with you about rescheduling.