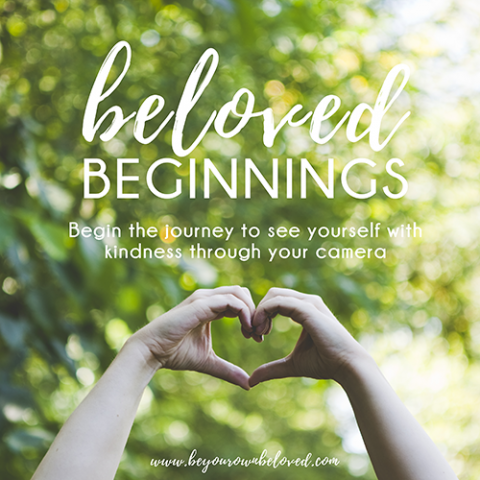 Taking the first step in a journey can be the hardest part can't it!
The Be Your Own Beloved classes invite you to start using selfies and self-portraiture as a tool for seeing yourself with kindness.  Yet taking that first photo and jumping into the journey can feel mighty vulnerable!
So I wanted to create something specifically for you who are taking their first step into a self-love journey through self-portraiture, to create 10 activities designed for you to invite you to take that first step, that first YES!
The original Be Your Own Beloved class is totally beginner friendly (designed with you in mind actually) yet the class is filled with folks with a variety of experience taking self-portraits.  I decided I wanted to create something just for you to take when you feel ready, and at your own pace!
So, you are invited into a 10 day journey to begin to be your own beloved!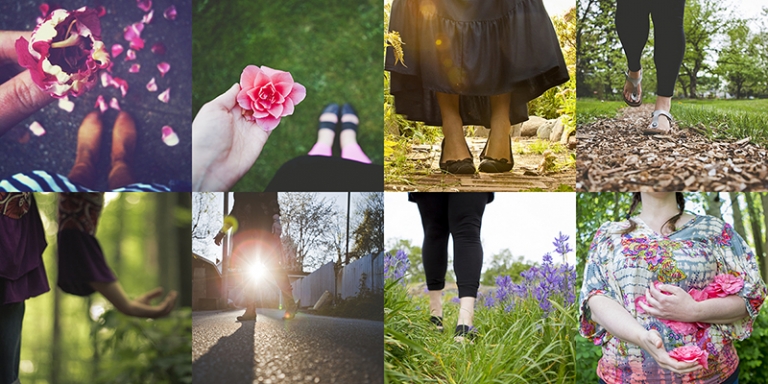 In this 10 day class we will:
Explore a variety of types of self-portraits and discover that there is no right or wrong way to take one!

Be introduced to my 10 favourite ways to take self-portraits that are all simple and easy ways to begin our journey
Gently explore the idea of Being Your Own Beloved
Have lots of fun (yes, self-portraiture can be oh so fun)!
The Details:
This is an online class so Beloved Beginnings is delivered right into your email inbox
You'll be invited to use the #beyourownbeloved and #belovedbeginnings hashtags to share your photos on social media and I'll be looking out for your photos to support & encourage you on your journey!
You Will Receive:
Daily prompts and inspiration in your inbox each day for the 10 days of class.
An E-Book of the entire course content at the end of class
What do you Need?
All you need is a camera of any sort.  An iPhone (or other smartphone), a point and shoot or a DSLR are all welcome.  Whatever you have to begin this journey with is absolutely just right!

No photography experience needed at all! Just an openness to see yourself in a new way through your camera.
Dates:
Live Group Session available as a Bonus when you Join in for Be Your Own Beloved! 
November 20th-December 1st.
Or you can also take the self-paced class where you can start any time you'd like. Once I receive your registration I'll get you all set up for class!
Register: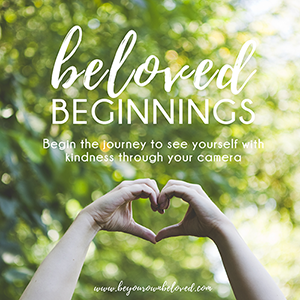 Click the 'Add to Cart' Button to Register for the Self-Pace Beloved Beginnings (that will start today)!
$29 CAD
If you email address is different than the one listed on your paypal, just let me know in the 'Notes to Seller' in the Paypal process or use the contact form to let me know your preferred address!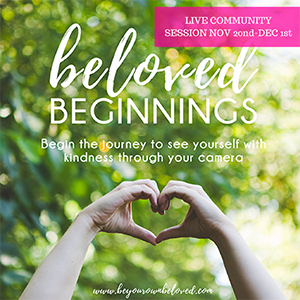 Or join in for the live Group Session November 20th-December 2nd. In this class you'll receive feedback from me in our community space where we'll share our photos.
$39 CAD

If you'd like to get in on the offer to get this class as a free bonus when you join in for the 30 Day Be Your Own Beloved E-Course head on over to the Beloved Page page to sign up!


FAQ:
What is the difference between Beloved Beginnings and Be Your Own Beloved?
The two classes have the same focus of exploring selfies and self-love but have different prompts so they can be taken individually or they are also powerful to take in companion with one another. The primary difference is that Beloved Beginnings is shorter and helps you really gently ease into the practice of taking self-portraits. It's especially designed for folks who might be a bit nervous to step out of their comfort zone and try taking selfies (and seeing ourselves with love).  Often after folks try the 10 day class they feel much more comfortable to step in even further and try the Be Your Own Beloved class.
The 30 day Be Your Own Beloved Class does challenge folks to go even further out of their comfort zones (as that's where the most powerful growth happens, right)! But if taking selfies as a whole feels WAY outside of your comfort zone or your just returning to taking selfies after a break…I recommend beginning with this class!