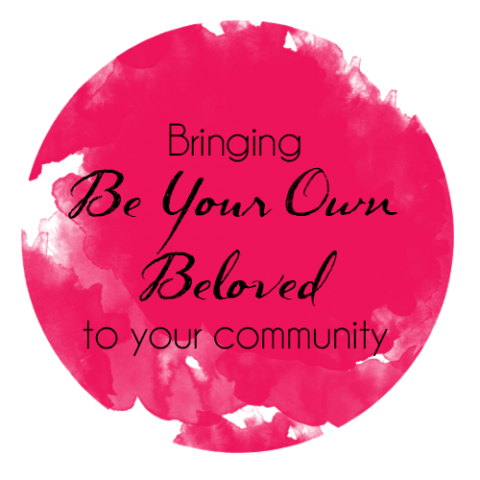 Lately I have been getting the most beautiful messages from women around the world saying "Come to my town and teach a workshop" or "I would love to use your activities in my local women's group or with my clients"!
While I will be Be Your Own Beloved on the road across Canada this year (and I'll be at a few events in the US too) and hope to get to teach women around the world about using self-portraiture as a tool for self-love, I would also love for Be Your Own Beloved tools to get into the hands of as many women as possible around the world. That is where you come in!
Be Your Own Beloved and the related E-Courses were created for YOU to take and to experience individually and explore your personal experience with seeing yourself with kindness through the camera.   My request to participants is that you don't take the prompts from the class and include them in your teachings (especially without consent) and let folks experience the class as a whole for themselves.
Yet hearing the type of work you folks are doing out there and are eager to use these tools, I am so energized by the idea of providing you with a way to help integrate it into your in-person work as an art therapist, as a teacher, as a women's group leader or as a coach using a Healthy at Every Size approach!
My friends, I am listening and am working on a curriculum & training program to train Licensed Be Your Own Beloved Facilitators.  This program will be for folks who believe in the Be Your Own Beloved message of cultivating self-compassion through self-portraiture and would like to bring some of the tools of this unique program into your work, or to your community
I'm working hard on creating this for you and can't wait to share it with you.  The program will take much of this year to create as I'll be testing out the curriculum at my In-Person Workshops this year.  I am also working hard to finish up my manuscript by the Spring and it is also packed with new prompts and activities that Facilitators will be invited to use.
You will need to have been a past participant of Be Your Own Beloved to apply for the Facilitators Program.  It is really important to me that this curriculum will go into the hands of Facilitators that have experienced the journey of finding self-compassion through self-portraiture first hand before teaching it to others.
If you are an alumni of some of my other classes (You are Your Own Muse, Wading In, Self-Care Policies), the content of Be Your Own Beloved is different and is the program the curriculum is based on, so come join a session of  Be Your Own Beloved  if being a facilitator is of interest to you!
If being a Be Your Own Beloved facilitator in your own community, or using the Be Your Own Beloved activities in your In-Person work, please join the waiting list for this program and I will connect with you when it is ready for you!