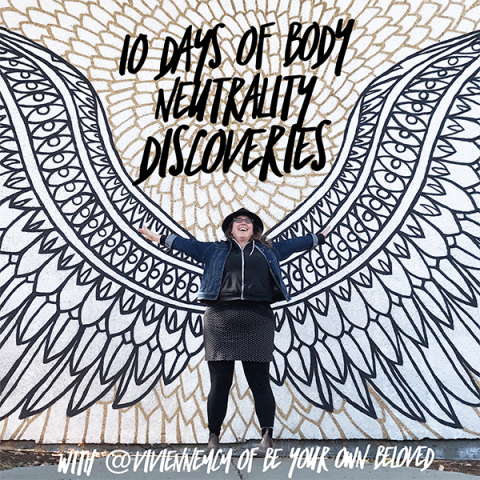 It's 10 days until the Body Neutrality class starts and I've had lots of great questions coming in about what Body Neutrality it is and how it plays a part in ending the way we critically relate to ourselves through the lens. And every time I talk about it with folks in person I see their eyes light up, I see the realizations clicking in their mind even before they say "This is the missing piece I've been looking for".  For the last few years on my personal body acceptance journey through the lens this has been my focus. Because after years on the quest for Body Love it felt like the search was going to be never ending, not because I wasn't worthy of it but because the standard were ever changing. I realized how much that the quest for body love is something else we're sold and it was as much a part of diet culture as body hate. I wanted out of the game altogether. I just wanted to be. I wanted to stop constantly striving to be enough and instead just live from a place where I was already enough. Enter Body Neutrality.
Preparing for the upcoming Body Neutrality E-Course, I found myself writing 10 of the core discoveries that Body Neutrality has opened up for me. And they were all earth shaking ones for me. But at the same time ones that now have me feeling more on solid ground with my body acceptance than ever. So for the next 10 days starting tomorrow I'm going to share them with you, leading up to the start of class on October 2nd.
I'll be sharing them here on my personal Instagram. I'll also be sharing them as well as your responses to the post over on the @beyourownbeloved Instagram. They aren't photo prompts (those await you in class) but if you'd like them in your inbox for the coming 10 days, hop on over to the blog post in the link in my profile to sign up and I'll send them your way.
If you do decide to join in for the Body Neutrality E-Course I do recommend not waiting for the last minute as we're having a live teaching call coming up (which would easily be worth the price of the class unto itself) before we dig into the activities in class, designed to help you put Body Neutrality through the lens into action. And while we're exploring this through the lens, as with all of my classes, it's not really about the photo. The photo is a place where we are asked to put the concepts into action. It's because we often see ourselves critically in photos that we can use it as a place for transformation.
As a part of practicing what I'm preaching, all the photos I'll be using for these posts are going to be ones that played a role in my own body neutrality realizations. Photos I would have seen as 'bad' or that I would have critiqued before these realizations but that I now feel neutral about, that don't hold that same power over me any more.
At the end of each of the Body Neutrality core discoveries I'll be sharing each day, I'll have a question awaiting YOU. Because I also want to know how they relate to your journey with body acceptance too. Because we aren't alone in this journey and a pivotal part of healing body shame is letting our stories be heard.
Join the Body Neutrality E-Course here if you know you're already in for the whole journey! Or add your email to the list below to get these posts in your inbox for the coming 10 days. Of course, it's also happening over on Instagram so if you're not already following me there, come join me at @viviennemcm as well as the @beyourownbeloved Instagram too!