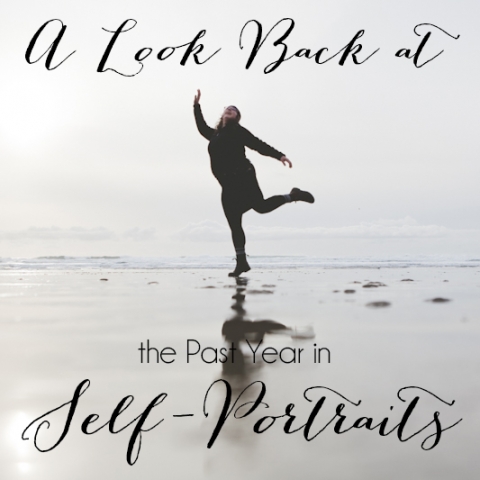 Starting last year, I've done a little end of the year collection of self-portraits looking back on the past 12 months and what story these photos tell me about the year individually & collectively.  Here is last years collection!
As I mentioned in last year's post, a big part of this journey of self-portraiture is telling the visual narrative of our lives and this feels like a powerful way to do that.  To look back on the year and see what the photos tell.  I see so many hiking photos, something I learned last year was a powerful way for me to get through the grey months.  I see myself in February learning to let herself shine,  I see so many of my community garden and East Vancouver alleyways that tell the story of my love of going on photo walks.  I see the story of a little bicycle and lessons on Confidence that I learned through it.  I see myself  standing behind an altar of flowers learning to acknowledge her hungers and I see myself in a LOVE dress dancing freely and remember all I learned this year on my body-acceptance & self-love path.  I see months where there are less photos and where it was harder to get outside.  Mostly I just see myself and want to thank her for every time she went outside on a photo walk or chose to pick up that camera and turn it on herself….and I want to thank her for the way she got brave this year and let Be Your Own Beloved really come into fruition.
It was really interesting to realize in the process of doing this post that if I told you the story of 2013 in iPhone Photos, it would read quite differently…as this year more than ever, my iPhone was my main camera.  I consciously used it a lot more during each of the 4 sessions of Be Your Own Beloved (as I really like to participate alongside the participants and an iPhone makes that easier for me….as well, its me living in action the idea that taking a self-portrait isn't only valuable when you are using fancy gear).  So I took SO many more everyday self-portraits with my iPhone…yet I wanted to stick with doing this post with my camera as a challenge to myself next year to make sure I use both my iPhone and my DSLR in my personal self-portrait practice!
If you've taken Be Your Own Beloved with me or have been on your own self-portrait journey this year, wanna join me in trying out this activity?  Whether or not you choose to share it in a blog post!  It is so neat to look back at her, the woman of 12 months ago and see the changes that have happened as well as the things that have been constant.
I've also seen folks make a video of their self-portraits of the year! Such an awesome idea!
You might even want to get crafty as you're sorting out your chosen photo for each month…we could do things like make a calendar?  Or make prints? Or a mini-book of our favourite photos of the year…I think thats what I'm going to do with all those iPhone photos!
So…here's a look back at my 2013 in self-portraits!
December
I'd LOVE to see your year in self-portraits! If you do a post, please do share it with me!