Lately my love for double exposures has been renewed.
Have you ever tried making double exposures (warning, it can be mighty addictive)?
Some of my favourite ways to do this in the past have been through using a Polaroid Spectra or by using Photoshop.  The Spectra Camera is not the pretties polaroid camera but it allows you to do double expose your film in camera which absolutely rocks…here are some examples of some polaroid double exposure.  You can also make double exposures using any film (just pull out the end of the film again after you finish a roll and over it a second time) though there are some great cameras like a Holga Camera
 or a Diana
 that you need to manually turn to take the next photo, making for easy access to creating a double exposure (though often I do it accidentally)!
The other main way I love doing double exposures is through layering them in Photoshop. You can actually do it on the free photo processing website PicMonkey too.  Just start with one image to edit then click on the 'Textures' tab and where it says you can add your own, pick another photo to try layering!  You can also play around with the 'Blend Mode' button once you've layered them for different styles of layering.
One of the best things about creating double exposures is that you have to let go of control.  Sure you can pick two photos you think might go together well but the best ones, the absolutely magical ones happen when you least expect it to.  I loved pairing two random photos together to see what happens and its always incredible what happens when you let go of trying to create a perfect double exposure and just experiment.
Lately I'm finding 2 new tools that are bringing back my double exposure obsession: Goldfrapp and a Double Exposure feature in my camera!
Goldfrapp is a simple yet amazing app that helps you create double exposures.  It has features that allow you to decide if it is black and white, colour or which photo is layered over which.
What has me head over heels for this app is actually the random shake feature.  You can shake it and it will pair together two photos from your photo stream.
This rocks because as I mentioned, it is the unplanned ones that are the most magical.
The Goldfrapp app has that energy of experimentation.  Its random pairings always blow me away (and are pairings that I wouldn't have imagined going together).  I should warn you, once you start doing the random pairing of images you took, you might not want to stop!
There are lots of other apps you can use to create double exposures: Instablend and Duomatic and have more features for adjusting your photo, but that random shake feature is just winning my photo-heart over all the rest (but I recommend exploring more double exposure apps if you're having fun with Goldfrapp)!
Here are a few pairings (both intentional and random) that I've had fun creating in Goldfrapp!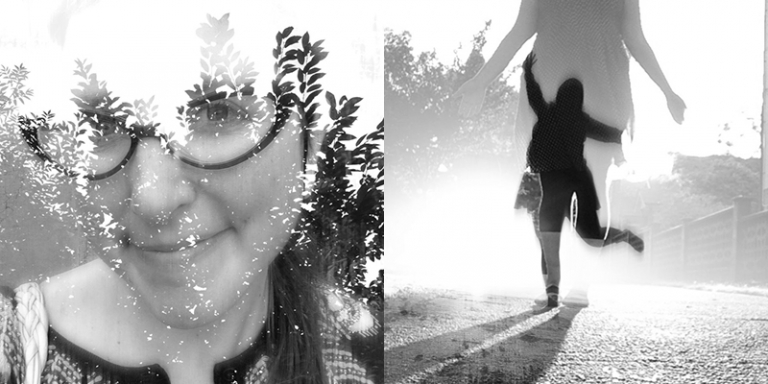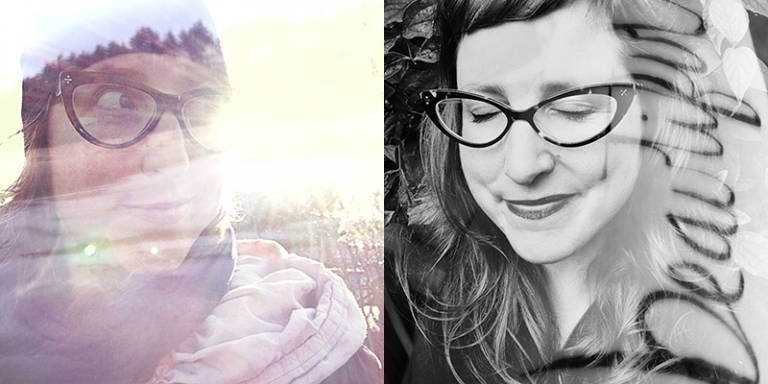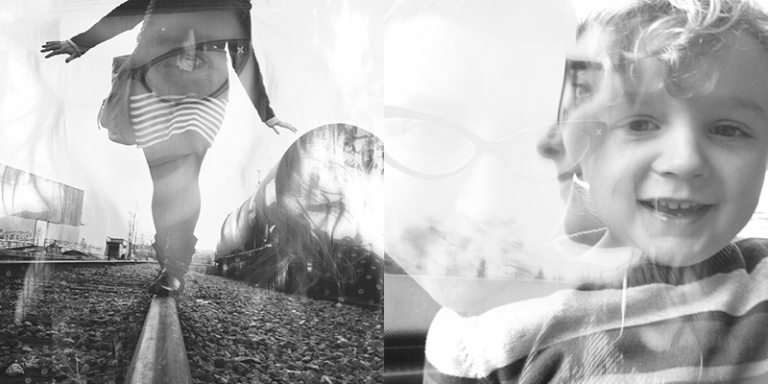 The other fun double exposure tool I discovered recently is that you can actually take them with my camera! Holy exciting discovery!  It is a Canon 6D but it also sounds like it is a feature on the Canon 5D Mark III
 (here's a tutorial and some super inspiring images)…though it may even be a feature on some Point and Shoots too (check your menu and see if it is mentioned)!  That said, it is just as easy these days to layer them off camera, so if your camera doesn't have that feature…you have lots of options!
Exploring it in camera, in the moment was pretty fun too as it tells the story of the moment but in two photos.  Plants, trees, silhouettes and light are some of my favourite things to work with (often matched with a self-portrait too) and it was neat to just pick two random things to photograph and see what happens!  As you'll discover if you experiment with doing double exposures, the areas that are really light or really dark in the photo are the most important as they provide the contrast and shapes of where the other layer appears through.
Here are a few examples of my in-camera double exposure experimentation I took the other day on an evening photo walk:
Have you played around with double exposures or have a technique you love for experimenting with them?  Do share!