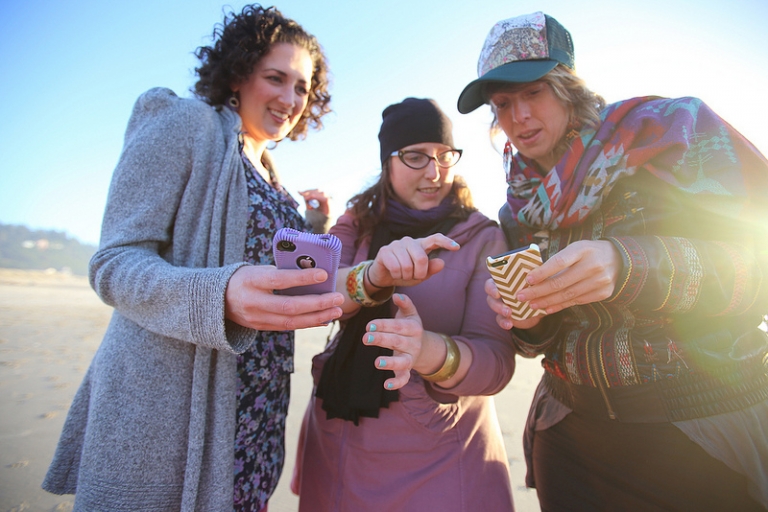 I often get emails asking about what gear I'd recommend, so I thought today was the perfect day to share what I use and why!
Cameras
I started my photo journey by buying a Canon Rebel, as it seemed like the camera that many photographers I admire used at the time.  It was a really good choice and definitely a camera I'd recommend for anyone wanting to explore photography further, beyond a point and shoot.  The newer versions are far more advanced than my camera was with way more options in terms of the photo timer (which is oh so important for selfies of course) and they usually also have video now days which is a big bonus.
I used this camera up until 2011, so it was the one I've used for so much of my photography.  I only upgraded because I was starting to shoot weddings and needed to be able to take higher quality photos than a 4 year old camera could provide.  I also felt like I was ready for a full-frame camera.
In a way, I felt proud that I didn't upgrade my gear until then.  It allowed me to see that my creative expression could be done with any camera, any gear, even an old one.   Getting new gear was helpful but I didn't feel like it made me a 'better photographer' and I'm glad I stuck with my old gear for so long so I could learn that.  Plus, this photography thing is pricey!  I think making your gear last as long as possible is pretty darn smart!
My jump from the Rebel to a new camera was a pretty big jump.  My defining reason for switching to this camera rather than any other model was that I wanted to be able to shoot full-frame.  Essentially what that means is that it has a bigger sensor so it makes more use of the lenses that I've got.
My first switch to a full-frame camera was to the Canon 5D Mark II and then a few years later I switched to the Canon 6D. There were a few reasons I made the switch, some technical issues with the Mark II, but also the 6D had much better video and wifi. Plus, the Canon 6D is much more affordable but is still an incredibly high quality full-frame professional camera. I'm beyond happy with the 6D and would choose it again over a the other full-frame options. There is now a Canon 5D Mark III available but I'd still choose the 6D. I'm that in love with this camera, it has everything I need out of this genre of camera.
Plus, the camera body is only one element of gear. The lenses are equally, if not more important!
Lenses
Oh lenses.  Choosing the right lens for you is an incredible way to make your visual voice sing loudly.  I use 3 lenses in particular for all of my photography needs.    I feel like I have found the triad of lenses that really works for me.   I also usually rent lenses if I have needs beyond what I can do with my gear.
Canon 50mm f/2.5 Compact Macro Lens
My love of photography and finding beauty really started with a love for shooting Macro.  I think its part of the cycle of seasons here (as it is just now spring) where when the flowers start appearing after a grey winter, I just want to stop and photograph each and every one.   The macro lens I use is the Canon 50mm 2.5 Macro lens.  Another big reason for getting this lens was that it was the one recommended for doing  TTV photography.  This lens allowed me to take wonderful portraits and I still use it to this day.  It is also pretty affordable (compared to the wild and crazy expensiveness that lenses can be) and not too heavy.
A few years ago I added a new lens to my crew, the 50mm 1.4 Lens, with the intention of using it as a portrait lens.  I knew there was a slightly more affordable version (the 50mm 1.8) and a super expensive one (the 50mm 1.2) and this felt like the right fit for me.  It allows you to take portraits with really beautiful bokeh as it has that wide openness.
This lens is definitely my every day lens. The next lens I'm going to share with you is the most versitile one and the one I use almost completely for photo shoots, but that lens is, well, fricken' gigantic and super heavy.  The 1.4 is really small and so beautiful so it most often is the one that accompanies me on photo walks.
Canon EF 24-70mm f/2.8L Zoom Lens
This is my new love.  I knew when I bought it that it would be my last lens purchase for a while (its a mighty expensive one) but that it would meet so many of my photo needs that I wouldn't be looking at any others for a long while.
As I mentioned, this is the lens I primarily use for photoshoots.  It is wide (especially on a full-frame camera), has beautiful bokeh (which is obviously a big thing for me) and is a zoom lens so it has much versitility.  I tend to say "its one gorgeous piece of glass" and it is.  It allows me to get more of the setting into a portrait but still have beautiful bokeh and clarity.  It is seriously heavy (especially on a pretty big camera) so I only tend to bring it on photo walks when I know I'll be taking self-portraits, as it allows, like with the portraits, to get more of the setting into the photo.  I only got it a year and a half ago so many of the more recent self-portraits (and all of the recent portraits) are taken with this lens.
I've had the 3 lenses for years and haven't felt the need to get any other lenses as they meet all my needs!
Renting Lenses
I'm a big fan of renting lenses (and it is way more affordable than you might think!
One lens that I don't own, but that plenty of my photos are taken with is the Canon 70-200mm f/2.8L IS II Telephoto Zoom Lens
.  It is a beautiful and even more gigantic lens that allows you to take really dreamy photos from pretty far away.  I adore this camera for concerts or for folk fest.  I still get really close to the stage to get photos like these, but it allows me to focus in on the musicians hand and take really lovely closeups.  That said, I haven't felt the need to buy this lens as I use it only for folk fest or for a wedding.
In Vancouver we are lucky to have the fabulous Beau Photo, which has a great rental department.  What rocks about Beau (along with being really kind and not intimidating or snooty like some camera stores can be….especially to women photographers) is that they are closed for the weekend, so when you rent a lens you get it for the entire weekend (Friday-Monday) for the cost of one day.  That means most of the lenses I have rented are in the $20-50 range for the whole weekend which is really amazing.  Paying this once or twice a year is absolutely worth it to me, rather than buying a super heavy lens that I'll only use occasionally!  I definitely recommend finding out if your local camera store has a rental department and you might be surprised by the affordability of renting lenses.  I definitely tried out the 24-70 before buying it and lots of other lenses that I thought I wanted but once I tried them, realized they weren't the right fit for my needs.
For those of you in the states, I also hear good things about BorrowLens, but being in Canada, I haven't tried them myself!
Other Cameras
I actually have cameras all over my house, some inhereted vintage ones and a wide variety of simply cute thrifted ones that don't work!  I thought I'd share a bit about the ones that I do actually use, namely the polaroids.
Polaroid SX-70
You've probably heard of the wonders of the Polariod SX-70.  It is such a beautiful camera, both aesthetically and in the photos it takes!  Unlike any other polaroid cameras, it allows you to shoot with manual focus and create a beautiful depth of field in your photos.  This camera truly makes me swoon.  They can be pricey though (as in $150+) so keep your eyes open for garage sale and thrift store scores!  I use the SX-70 for a variety of photos but it is by far the best polaroid to take portraits with so I always have it alongside my digital gear for Weddings.
Polaroid Spectra
The Spectra camera is a bit of a funny looking camera, but its misguiding as it is truly an incredible camera.  The 2 factors that make it so amazing are that it has a timer and that it allows you to double expose.  It also takes these gorgeous rectangular polaroids which are so much fun to shoot.  The camera itself can be scored for way cheaper online or in thrift stores.  I have only had one of these cameras (unlike SX-70's which are really finicky and I've gone through a few of them).   I primarily use the Spectra for self-portraits, double exposures and for street photography style photos.
Polaroid Land Camera
This camera is a bit less used in my world than the other 2 Polaroids, but not out of any lack of love for it.  It takes Pack Film, which is oh so incredible.  The version that I have is a bit less pretty than the other foldable versions but I chose it intentionally as it takes AA batteries.  I know myself and that tracking down an old battery for one of the other versions of the Land Camera is just unlikely to happen, so to have contemporary batteries felt important.  This version doesn't fold and is more plastic based but it really does take lovely pictures, especially street photography style photos.
iPhone Camera
When I first got an iPhone a few years ago it swiftly became my point and shoot camera…having it with me at almost all times, ready to be taken out to capture the unplanned moments of photo-goodness.  My first iPhone was a 3Gs and like my first DSLR, I used that one until I could no longer and then just a couple months ago upgraded to the iPhone 5.  The camera is undeniably better (especially with such a big jump between models) and I feel like I'm still learning things about how to make the most use of it.  Between the way it allows you to shoot macro or do a fixed focus, as well as shoot panoramas and HDR (which I usually don't like the look of, but am having fun experimenting with)!
Within the iPhone, the gear or apps I use the most these days are:
Gorillacam (free and allows you to set a customized timer)
PicTapGo (loving this new app and the ways it allows you to process your photos)
Instagram (of course)
Hipstamatic (their new lenses and double exposure options have me hooked)
Flickr (loving how easy the new version of this app makes it to add my photos to my flickr account)
Point and Shoot Cameras
You might notice this category has been left out so far!  That is because I don't actually have a point and shoot.  That is absolutely what I started exploring photography with and think they are the bees knees.  I fell in love with Macro shooting with a point and shoot and was amazed at the quality of shooting macro with them (a big plus).  That first camera got stolen in one of my unfortunate robbery experiences and I never replaced it.  I feel like at this point my iPhone has become my point and shoot.  They also have the potential to shoot video of course, with is a big bonus.
Other Photo Gear I use:
I love the gorillapod!  What a brilliant invention.  Its easy enough to carry around on a photo walk and is pretty sturdy.  I love that you can get them in all sorts of sizes (for different cameras).
Manfroto Tripod
I actually have 2 Manfroto Tripods.  The first I bought years ago when just starting to take photography classes at the college nearby.  I invested and bought a gorgeous tripod.  Truth be told, its gigantic and heavy and I don't use it as much as I'd like to (in terms of use vs cost).  This year I did buy a much lighter and much cheaper version at Target.  I love how I can actually put it in my backpack when travelling and it is sturdy enough for what I need it for (taking selfies and shooting video).  I'm glad I have both and buying a tripod is much like buying a camera or lens…you really need to figure out what your intended use is to buy the right gear.
Ever since the trend of stylish camera bags has appeared, I've been hooked and have tried out a number of them, but my absolute favourite and most used one has been the Lyric Bag made by Epiphanie.  So many of these camera bags (even some from Epiphanie) are, well…frickin' gigantic and not really ideal for everyday use.
The Lyric is dreamy and I will often just take out the padding and use it as a full purse (or even put my computer in it) and then can easily put the padding back in and make it back into a camera bag again.  It will definitely fit my usual photo walk gear which is often my camera (which is big) and both the 50mm 1.4 and the 24-70 lenses.  There is usually still room in there for a water bottle (for when my photowalk is actually a big hike), my wallet or even adding my SX-70 in there!
I also have another older Epiphanie bag (that they no longer sell) that is much bigger but works well for travelling!
The best camera is the one that's with you – Chase Jarvis
I do truly believe this quote…that the best camera is the one that you have with you and that gear doesn't make you an amazing photographer, you do!  So lets get out there and playfully capture the world around us with whatever gear we've got!
I do hope that has been helpful though!  I'd love to hear about your favourite lens or gear and I absolutely welcome any questions you might have!